CYCLADES YACHT CHARTER
| Super User
 Your Greece yacht charter holiday is an unforgettable experience. We have taken the time to curate the perfect blend of luxury and adventure, alluring destinations and hidden gems. Whether a couple looking for a romantic escapade or a family looking to create lifelong memories that they can treasure, we are here to take you on your Greek island blip, taking care of all aspects of your booking so that all you have to do is sit back and enjoy this once-in-a-lifetime holiday by Yacht Charter Athens.
 What is better than a luxury yacht charter vacation in the Cyclades islands? Booking a superyacht charter Cyclades for vacations or even corporate events is becoming increasingly popular nowadays. If you desire to sail the Greek islands and find convenience, comfort, safety and first-class service, look no further. Yacht Charter Cyclades by Yacht Charter Athens offers luxury yacht charters and superyacht charters which will provide the ideal nautical environment matched with experienced crew members.
Exploring the Greek Islands by luxury yacht charter Athens is an unforgettable experience - and many things make it so unique: crystal-clear waters and untouched beaches, picturesque towns and villages, deep blue skies and even food that has exceptional flavors.
 The islands come in all sizes and, though the ingredients are the same – incomparable light, translucent water, heavenly beaches, lustrous white buildings and bare rock, each one has its own distinct character. The group's stars, Mykonos and Santorini, need no introduction but the lesser-known islands, big and small, are just as rewarding. For starters, try aristocratic Syros, cosmopolitan Paros, the sculptors' paradise of Tinos, bountiful Naxos, exotic Milos and historic Delos, not to mention the 'hidden gems' that adorn the Aegean, such as Tzia/Kea, Kythnos, Sifnos, Serifos, Amorgos, Sikinos, Anafi and Folegandros. Whether you're traveling with your family, friends or sweetheart, you're bound to find your summer paradise in the sun in the Cyclades on a luxury yacht charter Cyclades.
Every Cycladian island is a jewel possessing fragrant treasures and special, secret experiences. Everything here belongs to the absolute elite: the exceptional variety of nature and its astonishing beauty, magnificent beaches and rich history, the Cycladic architecture and its unique harmony, the elegant cuisine and uniquely fine wines and spirits. Every island has its own personality. That said, each one can be enjoyed incomparably.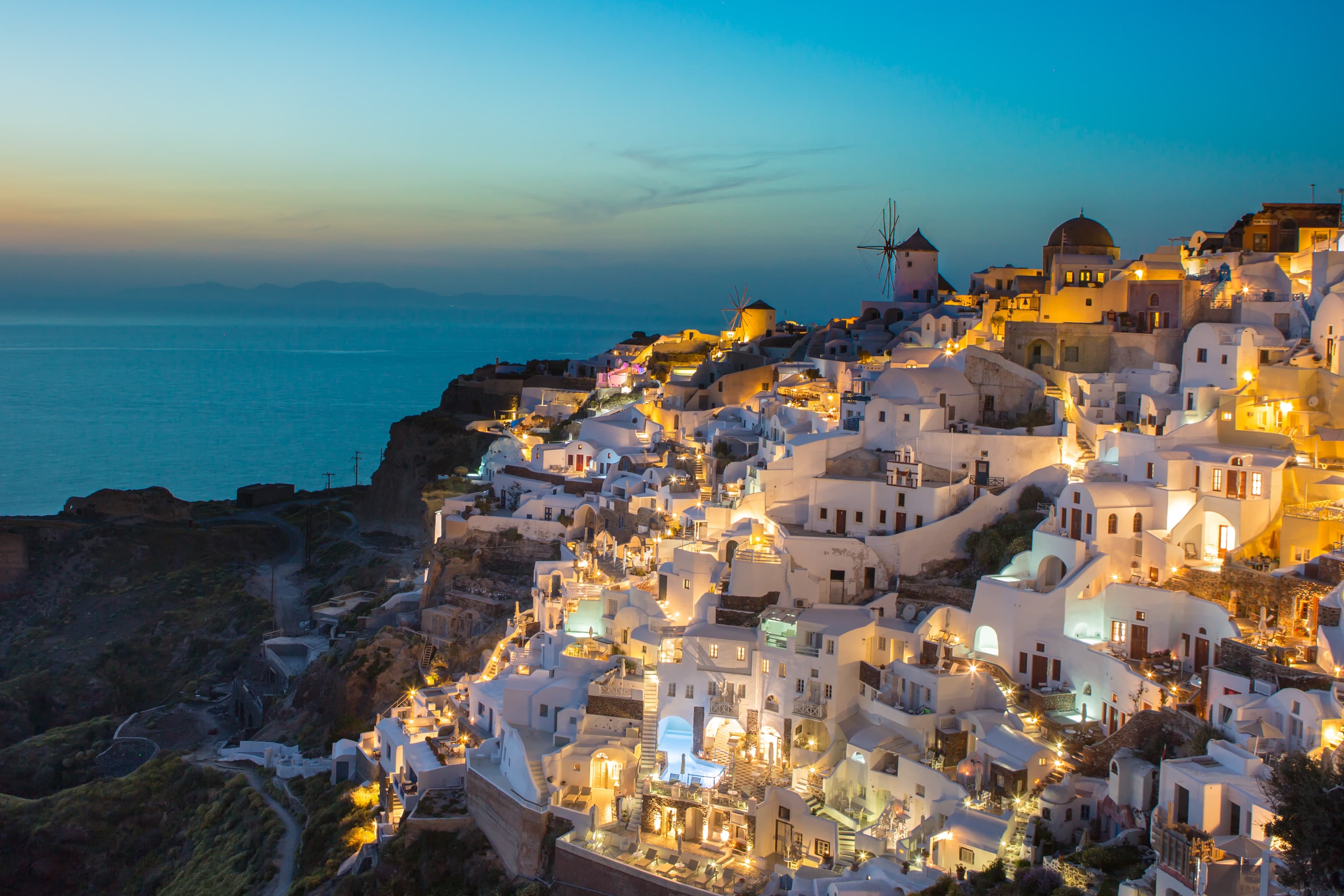 OIA, SANTORINI
Beaches of indescribable beauty in the Cyclades - Yacht Charter Cyclades Experience
What's your idea of the perfect beach? Green-blue water and white sand? Beach bars and water sports? Framed by rocks for snorkeling and scuba diving? No matter what your ideal is, you'll find it in the Cyclades. First stop: Mykonos with its extra golden sand, turquoise water, and 5-star facilities. Paradise, Super Paradise, Psarou, and Elia, all rank in the top 10 beaches worldwide.
Next comes volcanic Milos, with the biggest range of colors and rock formations, such as at Sarakiniko and Kleftiko, and Santorini's black and red beaches like Kamari, Perissa, and Perivolo that reveal the wild beauty of the Cyclades. Small Serifos is ringed with beaches, while rugged Amorgos can claim the 'Big Blue' at Agia Anna beach, where Luc Besson shot his seminal movie about testing the limits of man. Andros' 'secret' sandy beaches, like Ahla and Grias to Pidima, win rave reviews for being extra photogenic, as does Tinos for the round boulders at Livada and the enormous dune at Pachia Ammos (Fat Sand). For getting away from it all, both tiny Polyaigos, between Kimolos and Milos, and the Lesser Cyclades, near Naxos, offer unexplored destinations of raw beauty, for those who come by yacht.
Gourmet treats and superior wines - Yacht Charter Cyclades Experience
Every island specializes in a local treat with the distinctive flavor of the Aegean. Santorini's volcanic soil produces exceptional wines and extra delicious small tomatoes, capers, and white aubergines, grown without water. On the other islands, look for wonderful cheeses like spicy kopanisti and xinotyro on Mykonos, San Michali on Tinos, Paros and Syros. The rich omelette called froutalia on Tinos and Andros, sausages and cured pork fillet (louza) on Mykonos and Tinos, clay-pot chickpeas on Sifnos, and sweets like pasteli (sesame bars) and amygdalota (crushed almond shortbread) on all the islands. All the islands also distil their own versions of firewater but Tinos' raki is thought to be more refined and lighter, while on Amorgos they drink rakomelo, raki mixed with honey.
From the sun-washed Cyclades Islands in the Aegean Sea, Cyclades Yacht Charter by Yacht Charter Athens offers you the opportunity to explore this fabulous region. With the presence of Greek luxury yachting specialists, Yacht Charter Athens offers you a professional and friendly service that will help to put together the most suitable itinerary for your Cyclades Yacht Charter holiday so whether you are looking for a simple weekend break or something more extended we can create an authentic Cycladic experience that is second to none. From day-sails on board stunning yachts to comprehensive cruising packages through the islands, Yacht Charter Athens can make your dream holiday come true.
Immerse yourself in the aroma of Greek coffee, the sizzle of sea salt-baked fish, and the hypnotic rhythm of island life as you cross a sea so blue, your eyes must be deceiving you. Cyclades Islands await you to explore them on a luxury yacht charter Cyclades!